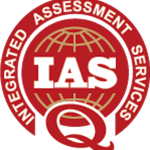 IAS Indonesia is a leading certification body, assesses and issues certification against various ISO standards such as ISO 9001:2015 (QMS), ISO 14001:2015 (EMS), ISO 18001:2015 (OHSAS), ISO 20000-1 (ITSMS), ISO 27001 (ISMS), ISO 13485 and various other ISO certifications and product Certifications including CE marking.
IAS has supported many clients in achieving certification of ISO through its professional approach maintaining auditing ethics. Friendly, practical, neutral and value added audit approach towards auditing of client systems are advantages of IAS.
Certification of ISO is a third party verified proof about the organizations ability to demonstrate system being followed, to its stake holders. Various schemes of ISO standards are specific to the sectors where as ISO 9001 is the basis of all ISO standards. Certification of ISO is not carried out by the ISO directly, it only publishes ISO standards. Issuance of ISO certificate is carried out by the certification agency or bodies which are in turn controlled by Accreditation bodies.